Seen as our site has been down for a while (completely accidentally), this post could not have been published at the start of the month, but to keep the structure of our blog we are just going to do it now…
Amy:
Monster, Naoki Urasawa
Though Monster is one of Christie's favourite manga series, I haven't read any of it yet, so I decided to put it on my TBR for this month and see if it could compete with Tokyo Ghoul (my favourite manga series) as much as she tells me it can.
2. Tokyo Ghoul 7-10, Sui Ishida
Though it's my favourite manga series, I haven't had the time recently to catch up on the releases I've bought but haven't got round to reading yet, so I plan on catching up with the series this month 🙂 My TBR has a lot of mangas at the minute, because with college I haven't read in quite a while and I always find mangas are the best things for reading slumps because they're so fast-paced and exciting.
3. The Importance Of Being Earnest, Oscar Wilde
Apologies for the grainy photo, but I couldn't find one online because I bought my copy at a second-hand store and it's a 1960 edition. The illustrations are beautiful. I've always thought Wilde's writing style would be one of my favourites and so I'm very excieted to read something written by him for the first time.
4. The Handmaid's Tale, but because Christie discusses it below and I'm reading it for the same reason, I won't explain this one in depth.
Christie:
Half Bad, Sally Green
This book has been on my shelf for years and I still haven't read it- I'm still really interested in the premise which first made me buy it (as well as the fact that one of the characters is called Mercury, a name I have used in writing before), and seen as there's really no reason it has taken me this long to pick it up I decided this month I finally will.
2. The Art of Being Normal, Lisa Williamson
As I'm sure everyone is already aware, this is Amy's favorite book. By now my sister, and even my brother in law, have also read it and I'm sure the response has only been positive. It also fits the monthly motif challenge I am doing this year, as April is the month for award winners- it hasn't escaped my notice that the review on the novel's cover is also by Phillip Pullman, an author I admire greatly. I'm really excited to read this one.
3. My Little Monster, Robico
When I picked up this wacky-looking manga I was searching for a fun, quick read after having finished all of the Monster and The Demon Prince of Momochi House mangas that I currently own. As well as the interesting blurb, Amy informed me there is also an anime adaptation (so expect a thursday review of this), just when I was feeling the itch to dive into another anime series. I love one of the names- yes, I'm aware this may not be a normal reason to read a book- of the male lead, Haru, which in korean means 'day' (but I'm not sure about Japanese). I hope I enjoy this manga, but I fear it may be overshadowed by the next manga I plan to read, a Tokyo Ghoul volume.
4. The Handmaid's Tale, Margaret Atwood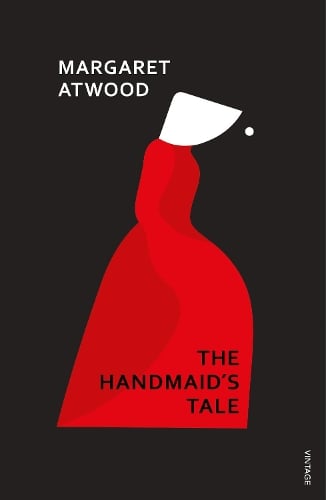 I have to read this for college. Normally this means I don't look forward to reading a book- as it isn't on my own schedule or for my own enjoyment- but I am trying to think positively about this one, as I know it is a very popular, influential novel. I'm interested at least to see how it compares to Frankenstein, the other novel in my course and one of my favourite books.
5. Poems That Make Grown Women Cry, edited by Anthony and Ben Holden
Even the intro to this collection was enough to make me emotional (the editors presenting themselves extremely well), but my sister gave me this as a present as I hardly ever cry, and so far I haven't. I'm about a third of the way through this book already and enjoying it immensely; after finishing this collection this month my plan is to progress to one of the Everyman's  Library Pocket Poets books that said sister also gave me.