Yey, one English mock out of the way! Although I read The Novice by Taran Matharu a while ago now, I have other plans for more recent reads so, let's get started!
I should probably start by saying I bought this book years ago. If I had read it upon purchase I would have no doubt vastly enjoyed it, yet now my tastes have changed slightly and my reading developed. Firstly, the writing style- this is clearly Matharu's first novel. This isn't to say the writing was bad, it simple lacked some individuality and risk (though the novel is fantasy and action-based, the writing was still basic and could have really been written by anyone). Again, I would link this to the age of readers; if I had read this when I bought the book I certainly wouldn't have noticed this, having read less authors whose styles I admire or dislike.
Secondly, conserning the characters of this novel, there is an interesting assortment. Attending the protagonist's school there is also an elf, a dwarf and (of course) the demons assigned to each student. Even within this variety there is class differences and discrimination, making the atmosphere of Volcan's very close to that of a real school- with the addition of likeable and unlikeable teachers, it becomes even more realistic. These characters are easy to care about therefore, with the main characters all being victims of some kind of discrimination or predjudice, with varying characteristics and charm. Fletcher himself has a good basis for character development, with a strong sense of morals yet teenage temper, so through the three book series (which also includes a prequel and companion following Othello, the dwarf mentioned previously) it would be interesting to see how this character grows.
The plot however, I found a litlle slow. The novel starts well, Fletcher's current life being explained and viewed briefly before small actions build to cause problems. Here, the novel was fast paced and interesting, with the introduction of new characters and situations which left me wondering what Fletcher would do next. Towards the middle this pace slowed considerable- for the most part his time spent at Vocans simply focuses on the classes taken by Fletcher and arguements he finds himself in (though a few tense moments of danger were well placed to break this up). For some readers the school classes may make up for this pace well, being demon or summoning focused, yet personally I felt as if I had read much of this content before. Nothing particularly peeked my interest as the plot followed a very generic structure and I would have liked the fantasy elements in the novel to be more unique and developed beyond the norms in this genre. At the end the plot picked up again slightly, with the politics and future of their fantasy world becoming more of a focus the scale widened and the actions of certain characters seemed more important (whether these were threatening or otherwise).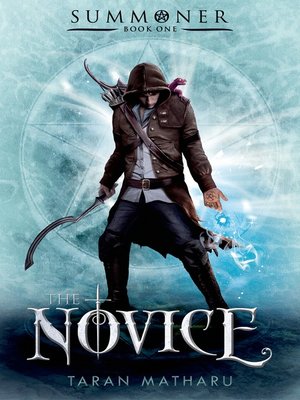 All of this means that although the book was a fun, easy read, it is not one of my favorite works. Rather than saying it was badly written (as it wasn't), I would class this as a childrens book and not the YA it is marketed as, due to the generic plot and writing style, with the stilted, very typical dialogue perhaps being more forgiven in this age range. Given this new label I can say I enjoyed it, with characters that were easy to care about (a partcular favorite of mine being Fletcher's fellow student Seraph) and plot/ characters easy to devolpe well in the following novels, this was a good first novel for Mathura.